I am so excited about this! When you come in for your session you will give me your personal signature and we will put them on your wallets! You get 48 for FREE!

Check out my price list and info here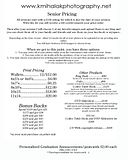 Email me today to set up a time for your session!

**Email me the time of day and day of the week that you are available. I am not available on weekends due to a busy wedding season.

ps Those aren't Kyle, Alli, Brenton and Laura's signatures. I did them to make a sample. :) Oh ya and Kyle and Laura graduated in '09 not -'08. I got lost in a time warp or something.